Hair transplantation, is a surgical procedure carried out on men and women. This procedure, is seen as a somewhat permanent solution to various causes of hair loss. This article assesses hair transplant before and after for male, their success stories and possible health complications.
During hair transplantation, healthy hair skins called grafts are extracted from the back of the scalp. This is the area containing lots of healthy thick hair.
Then, the grafts are transplanted to areas where there no hair.
Within a six to twelve months healing period. The grafts implanted would bring forth new hair to cover up bald areas.
Hair Transplant Before And After For Male Pictures
Hair transplantation is indeed a " Miracle."
Over the years, this procedure has transformed the facial appearance and self confidence of men all over the world.
The pictures below clearly shows the wonders of male hair transplantation.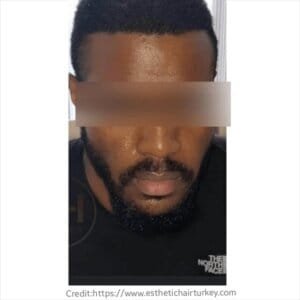 BEFORE.                                                                                            AFTER.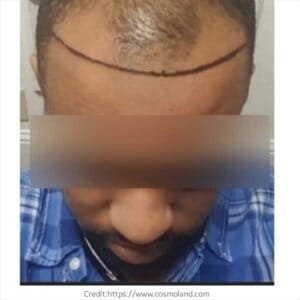 BEFORE.                                                                                             AFTER.
   BEFORE.                                                                              .           AFTER.                                                                                                 
              This picture above is one of the best hair transformation related to hair transplant for men. Before and after pictures, clearly shows how skilled the surgeon is.
BEFORE.                               AFTER.
ARE TRANSPLANTED HAIRS PERMANENT?
To the best of my knowledge,  there's no definite answer to that question. But, I know they are meant to be a permanent solution to hair loss.
Subjectively, I doubt transplanted hairs are permanent.
Reasons for this belief are discussed in this article.
HAIR TRANSPLANT POSSIBLE HEALTH COMPLICATIONS 
Undergoing hair transplantation surgery in the right hospital, under a qualified and experienced surgeon, is quite safe.
But, just like every other surgical procedure, hair transplantation, is prone to certain complications.
Complications like;
Bleeding and Injuries: When hair transplant surgeries are not carried by the right surgeon and closely monitored, over time. Patients are likely to experience excessive bleeding and Injuries.
If this is ignored, infections may occur.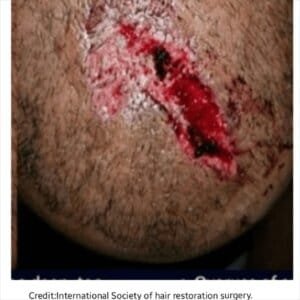 Infections: Infections after most surgical procedure, is common. When donor or recipient areas are not, closely monitored, after a hair transplant surgery. Infections are,  likely to occur.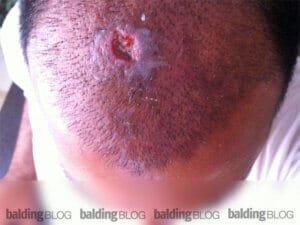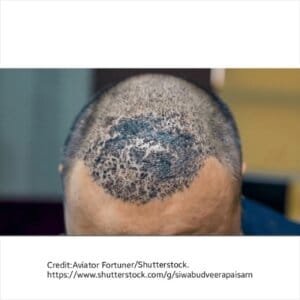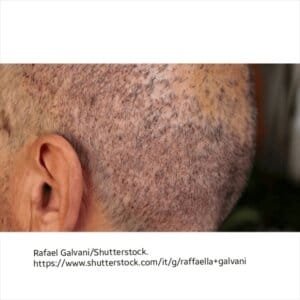 Swelling scalp: Hair transplant surgeries are carried out on the scalp. Under the wrong surgeon, the scalp might become injured and infected. When this occurs and is not given proper attention, this would result in a swollen scalp.
Scabs on the scalp: scabs are caused by either an infection, lice infestation or inflamed hair follicles.
In situations where they do not heal or bleed. This may be a sign of skin cancer.
RECOMMENDED ALTERNATIVES TO HAIR TRANSPLANT
When it comes to dealing with hair loss, hair transplantation is one of the best solutions.
But, if you've read this article, considered the cost and risk involved. You would agree with me that, it may not be worth it.
This is why I have taken out the time to recommend the products below. These are products that would produce similar results as hair transplantation:
Male Hair Regrowth Kit: This kit, is made up of two products.  Both are designed to deal with hair loss and thinning.
The spray contains, " Ginger and ginseng extract, grape seed oil, rose oil and a range of other ingredients,  which are,  exceptionally great for the skin.
In addition to that, this spray boosts hair growth, reduces the rate of hair loss, prevents dandruff and moisturizes the hair.
Derma roller: This is a manual device containing a good number of micro needles. This micro needles  are designed to penetrate into the skin and stimulate the production of collagen.
Which would in turn, Foster hair growth.
In 2008, a research was carried out on derma rollers.
It was discovered that collagen production was increased by four hundred (400) percent after four derma rolling sessions.
With this male hair regrowth kit, hair loss would be a thing of the past. Buy it Online.
The pill finasteride: This is also another very good product for hair loss. It comes in form of pill.
This product has been well researched and proven to very effective in treating hair loss.
Side effects of this product includes; decreased sex drive, bloating and chills.
Men's hair growth supplement: Just like the product above. This supplement has been well researched on and proven to help with hair loss treatment.
This product is packed loaded with collagen and other ingredients that has amazing benefits for the hair.
CONCLUSION
Men are more prone to hair loss. This is the reason why there are more bald men to women.
A singular procedure that has gathered attention , over the years, is hair transplant for men. Before and after it occurs; any one who undergone this surgery the right way, is sure to attract attention.
In case,  you would want to give it a trial, we suggest you check out our recent article on the results of hair transplant after 10 years. This will give you more insights of what to expect after 10 years of surgery. Also make proper findings before you pay for that hair restoration surgery!