Most men love having beards. This is because, the right shape and quantity of beard, has a huge influence on a man's facial appearance. This article discusses the case study of different individuals who used a derma roller for beard before and after, pictures from their beard growth journey and possible side effects to expect.
In most cases, getting recognized as a man by other men, often begins with having a beard.
But, due to genetic composition and hormones. Certain men are lucky enough to get the right quantity of beard, at the right time.
An instrument that has comes to the rescue of those who are not quite lucky, are derma rollers.
Do Derma Rollers Work for Beard Growth?
The short answer is Yes! Due to the fact that derma rollers activates the production of collagen and keratin, it is proven to give guaranteed hair growth results. Its ability to massage the scalp and activate stem-cell growth factors, makes it a widely chosen option for hair growth and revitalization.
A Derma roller is a manual device made up of a varying number and length of micro needles. This micro needles are famous for its ability to penetrate into the skin. Thereby, stimulating the production of collagen and essential fibres.
When produced, this nutrients provide essential benefits for the skin. One of which, is the promotion of hair growth.
The findings from a research carried out shows that when a Derma roller is used at four different occasions. Collagen stimulation and production In the body, increases by  four hundred percent.
How Long To See Results From Derma Roller For Hair?
If a Derma roller is used, consistently with a good hair growth spray or serum. Visible results should be witnessed, within 4-6 weeks.
This procedure requires a lot of patience. Thus, it is advisable to  avoid checking for results all the time.
Use, consistently and be patient.
If you wish to learn how to use a derma roller, correctly. Check out this article.
DERMA ROLLER FOR BEARD BEFORE AND AFTER PICTURES
Derma rollers are indeed effective for beard growth. Check out the amazing results from a few men, after consistent use.
This picture was taken before the use of a Derma roller. You can observe that certain areas of his face has not experienced any form of beard growth.
After consistent use of the derma roller for a month. Areas with no beard growth, initially, now has traces of hair.
After consistent use of the derma roller for two months, results become more visible.
At month three, the end result,  amazing!!
The first week of consistent use. As you can, clearly see, there are little to no results.
After two months of consistent use. You can clearly see how his beard has experienced tremendous growth.
Found below are other amazing beard transformations. After consistent use of a Derma roller.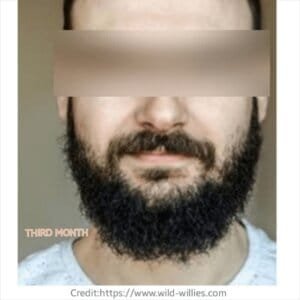 SAFETY PRECAUTIONS
Derma rollers are made up of micro needles, which PENETRATES into the skin.
The derma roller is not dangerous and should cause no pain, if properly used.
Take note of the following precautions;
Before use, disinfect the derma roller for fifteen (15) minutes. This is done by soaking it in a 75% alcohol solution or a pot of boiling water.
The derma roller has a number of micro needles. Use gently. Do not force.
Make sure to use the recommended needle lengths. To learn more, check out this article.
Derma rollers should be treated like a tooth brush. Do not share with others.
Damaged derma rollers should be replaced. Do not attempt to make use of one.
After using a derma roller. Avoid taking hot baths or exercising for the next twenty four (24) hours.
Men with Acne, Eczema, and other contagious skin infections at beard scalp, should avoid using a derma roller.
POSSIBLE SIDE EFFECTS AND COMPLICATIONS.
Please note the following side effects and complications. Complications should not arise, if the derma roller, is properly used. And safety precautions are abided by.
Infections: This can occur if the derma roller is shared with others or used by men with contagious skin conditions.
If derma rollers are used with force, beard scalp might have bruises.
Men using derma rollers for the first time should expect burning sensations. This is , completely natural.
Depending on your skin colour and sensitivity. Redness of the skin should be expected.
This should clear within hours.
Beard scalp might become darker, few days after using the derma roller.
WHERE TO PURCHASE A DERMA ROLLER.
Getting results as observed in the section, " Derma roller for beards, before and after use," is only possible , if the right derma rollers are used.
The list contains quality and pocket friendly derma rollers, from a few best online stores.
Our derma rollers are made up of 540 titanium needles designed to adequately penetrate the scalp and increase the growth factors needed for a fast & healthy hair growth.
RECOMMENDED SERUMS OR SPRAYS
Derma rollers produce expected results within the stipulated time when combined with the hair growth sprays or serums.
The list below contains quality and pocket friendly sprays and serum, from few of the best online stores.
The Hair intensive spray is made with 6 best natural plant essence which are proven to boost hair growth 4X than usual. Purchase the intensive hair spray online here.