Derma rollers are used for different purposes, one of which is the promotion of hair and beard growth. But, do Derma rollers work for beard growth?
For men with little or no beard growth. Derma rollers are seen as, a possible means of stimulating more beard growth.
Despite the available testimonies and pictorial evidences supporting this belief. This article takes a closer look at how derma rollers work and also assesses the possibility of this device facilitating beard growth.
WHAT IS A DERMA ROLLER?
A Derma roller is a manual devices having a handle and a roller containing a number of, " Micro needles."
This manual device when used either by dermatologist on individuals or individuals themselves;
• Creates very tiny injuries on areas where it is used.
• Due to this very tiny injuries, the body immediately tries to heal itself by producing, " Collagen," in areas where injuries are present.
The substance produced would then help;
• Reduce appearance of Acne scars and facial signs of aging.
• Promote hair and beard growth, amongst others.
HOW DERMA ROLLERS WORK TO PROMOTE BEARD GROWTH
1. Stimulation of Collagen production:
Due to the very tiny injuries caused by the use of a derma roller. The body produces, " Collagen."
Collagen is simply a protein produced by the body.
This protein is very important to the skin and is believed to play an important role in hair growth.
This is because:
• Collagen contains, " Proline."
Proline is an amino acid. It makes up a huge part of another protein called, " Keratin."
Keratin is a protein from which hair and nails are made.
• Thus, when Collagen production increases, the amount of protein in the body also increases.
And this would in turn foster more Keratin production. The end result is more hair production.
According to the findings of this research.
When derma rollers are used for four different sessions, this might lead to a 400% increase in Collagen production.
2. Strengthening hair follicles:
Hair follicles are simply small holes found in the, Epidermis," responsible for growing hair.
Due to increased Collagen production brought about by the use of a derma roller. The hair follicles might become strengthened.
This is because collagen can help fight against harmful substances that can damage our hair follicles.
And when our hair follicles are strengthened, they would function better.
3. Easy And Quick Absorption of Hair Growth products:
For quicker and more visible results, it is advisable to use a derma roller with a hair growth spray.
It is believed that using a derma roller before applying any hair growth product would help speed up the rate in which the ingredients penetrates into the skin.
This might bring about more speedy results.
DERMA ROLLERS FOR BEARD: BEFORE AND AFTER PICTURES
The pictures below further attests to the effectiveness of derma rollers in stimulating beard growth.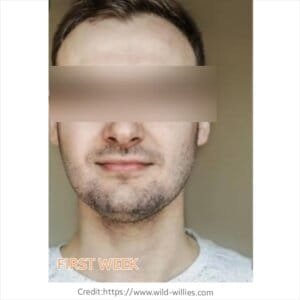 BEFORE.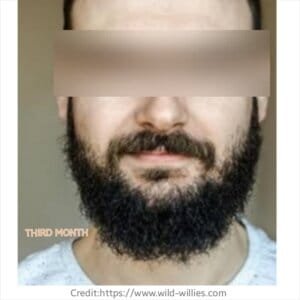 AFTER.
BEFORE.
AFTER.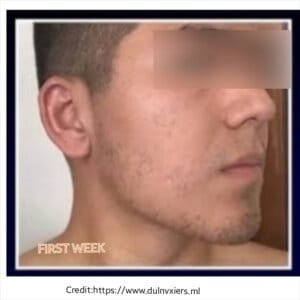 BEFORE.
AFTER.
Check out our previous post on the before and after pictures of using a derma roller to see more photos.
But, DO DERMA ROLLERS WORK FOR BEARD GROWTH?
Due to lack of scientific evidence to prove the effectiveness of derma rollers in facilitating beard growth. (To the best of my knowledge.)
There's no definite answer to the question above.
But subjectively, I believe derma rollers, might help promote beard growth.
And I guess you might also agree with me after reading the contents in the sections above.
RECOMMENDED NEEDLE LENGTH FOR BEARD GROWTH
Micro needles found on a derma roller comes in different length.
For stimulating beard growth the recommended lengths are either, " 0.25mm," or, " 0.5mm."
The 0.25mm micro needles should be used by men using this device for the first time.( I.e. Starters)
But, this should only two or three times per week.
On the other hand, the 0.5mm is suitable for men who have experienced minimal beard growth after using the 0.25mm derma roller.( I.e. Mid- range.)
For this needle length, use only once or twice, a week.
HOW TO USE A DERMA ROLLER FOR BEARD GROWTH
Before learning how to use a derma roller, it is important to purchase the right brand.
One of the best is this, " Derma micro-needling device." This product is available for purchase at the Skinol Cosmetics online store.
Now, to use a derma roller;
1. Drop the device into a pot of boiling water or a 75% alcohol solution for about 15 minutes.
This would help sterilize the device.
Then pat dry with a paper towel.
2. On a thoroughly cleaned beard area. Move the device in the following direction:
• Vertically ( | ): in a straight line motion. I.e. Moving from up- down.
• Horizontally ( – ): This is moving in a fallen straight line motion. I.e. From one end to the other.
• Diagonally ( × ): Moving in the direction of a multiplication sign.
All this should be done in a maximum of 5 minutes.
3. Apply the hair growth spray, if you have any.
4. Then sterilize the device using any of the methods above. But, this time for about an hour.
Pat it dry then return back to its pack. Check out more information here on how best to use a derma roller to avoid complications.
NOTE: For quicker and more visible results. Pair the derma roller above with any of the hair growth sprays below;
• First sun intensive hair growth spray: This spray contains ginger and ginseng extract, rosemary and Grape seed essential oils, amongst other natural ingredients.
This product can be purchased from the skinol Cosmetics online store.
SAFETY PRECAUTIONS AND POSSIBLE SIDE EFFECTS WHEN USING A DERMA ROLLER
Bearing in mind that a Derma roller contains micro needles designed to penetrate into the skin.
Note the following safety precautions and possible side effects.
1. Use only the recommended needle length. And do use derma rollers that have not been sterilized.
2. Use this device, gently. And do not attempt to use for more sessions than recommended, as this does not guarantee speedy results.
3. Derma rollers should not be shared with others.
4. Use only for minimum of 10 sessions a maximum of 15 sessions, then purchase a new roller.
5. Damaged Derma rollers should be replaced, immediately. Do not attempt to, " Manage."
6. Men with Acne, Eczema and other contagious skin conditions in beard area should not use this device.
7. Avoid exercises or a hot bath for at least 24hours after use.
Derma rollers should not hurt or cause injuries if you follow the precautions above.
But the following side effects might occur:
• Redness of the skin and hot sensations after use. This should disappear after a few hours.
• Injuries if you do not use, gently. And infections, if you share with others.