If you want healthy hair, you must oil your hair. But if you have been having a hard time making a decision on which one to use or you are struggling to find the best, we have picked the best fast hair growth oils.
1. Coconut oil
Coconut oil is one of the most commonly used oils that is excellent for hair growth. The good news? It is available everywhere. It is rich in vitamin E, fatty acids, vitamins, minerals, carbohydrates, and antioxidants, which promote hair growth and make your scalp and hair healthy. It promotes healthy hair growth. Coconut oil also helps to stop hair thinning.
It softens and shines your hair.

It works wonders on all types of hair.

Your hair is shielded from heat deterioration.

Your scalp and hair tissues are repaired.

It offers improved defence against hydralazine damage to hair.
2. Argan oil
The least amount of processing is performed on argan oil, making it the best natural remedy for your hair problems. Antioxidants and vitamin E are also abundant in it, which aid in replenishing and rebuilding the nutrients in the hair. People with dry, frizzy hair benefit greatly from this oil.
Split ends are less likely to occur because of this.

It produces hair that is thicker and healthier-looking.

It prevents styling and colouring damage.

Less shedding and breaking is a benefit.
3. Lavender essential oil
Hair growth can be accelerated with lavender oil. In one animal experiment, researchers discovered that lavender oil was able to encourage faster hair growth in mice due to its characteristics that can relieve stress and stimulate cell growth.
It has the capacity to produce new skin cells, which may promote hair growth.

It effectively moisturises your scalp.

Your scalp's sebum production is balanced as a result.

It is a fantastic way to decompress.
4. Peppermint essential oil
When applied to a spot, peppermint oil improves circulation there. The anagen (growing) phase of the hair cycle may be aided by this. The stronger your follicles are, the more blood will flow to your scalp thanks to this essential oil.
It quickens the development of your hair.

It manages flaking.

It bolsters the roots of your hair.

It addresses lice issues.
5. Rosemary essential oil
Due to its capacity to enhance cellular formation, Rosemary oil is a fantastic option if you want to promote both hair thickness and hair growth.
It regulates split ends.

It deeply conditions your hair.

It provides good scalp nutrition.

Hair growth is encouraged by it.

It guards against scalp fungus infections.
Some say that directly using essential oils to promote rapid hair growth is stressful since they don't want to blend oils improperly and risk making mistakes. If you belong to that group, well, say no more. We've found the best for your hair goals, and all you need to do is follow the manufacturer's instructions on the products and you're good to go.
Products Containing Fast Hair Growth Oils
1. FirstSun Hair Growth Intensive Spray
Hair grows four times more quickly than usual as a result of this product. Dandruff is eliminated and prevented, the hair is nourished, the hair follicles are deeply repaired, and the hair roots are also thickened.
It is known for moisturising hair, leaving it smooth, glossy, and soft. You have the best remedy with ginger extract, grape seed oil, and glycerin.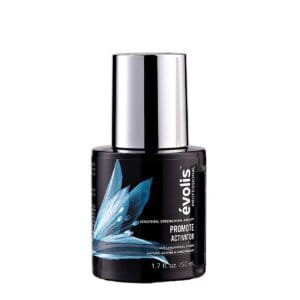 This lightweight, simple-to-apply product is a professional hair growth scalp treatment that promotes hair growth and improves the texture, health, and general quality of your hair. Baobab and keratin are among the nourishing natural active ingredients and antioxidants used in its formulation to lengthen, strengthen, and moisturise hair.
This keratin treatment is created without parabens, sulphates, silicones, or phthalates; it is also 100% cruelty-free and suitable for use on coloured hair.
If you need all the best essential and carrier oils so you can get more products, then this one has got you covered. From castor oil, rosemary extract, coconut oil, tea tree oil, and some of the best ingredients for hair growth, you need to support your hair goals. It is a thin, non-greasy oil that can be applied every day and stimulates, energises, and rejuvenates the scalp.
The secret to healthy hair growth, especially for dry and brittle hair, is deep scalp conditioning and root nourishment. This product delivers vital moisturising components like shea butter, jojoba oil, and tea tree oil to the scalp for healthy hair growth and moisturised hair.
Say goodbye to greasiness and dryness with the Cantu formula's no-drip formula, which helps to prevent breaking and mend split ends.
It is a biotin-infused, nutrient-rich treatment that can be used as part of a regular hair care regimen or as an intensive deep treatment to prevent damage and promote healthy, glossy hair with a clean, energising aroma. In addition to strengthening, lengthening, nourishing, and protecting hair, this light treatment fights dandruff, soothes itchy, sensitive skin, and nourishes split ends and hair follicles for a sleek appearance.
 Takeaway,
Now that you know the best and how to choose fast hair growth oil, you can easily make the decision to buy or use what works for you.