I took out time to study some of the best anti aging skin care products for 40s.
And I could not believe my eyes when I saw the number of available products and the demand for them.
Although Aging is natural, inevitable and should be a blessing. Premature aging on the other hand, not a blessing.
Imagine looking 60 in your early 40s.
Using cost and quality has criteria. I have put together a list of anti aging skin care products for individuals in their 40s.
But,  before that let's take a look at:
SOME DETERMINING FACTORS OF PREMATURE AGING
1. Heredity:
You are more likely to age prematurely, if you are born to parent who also aged prematurely.
2. Fall in collagen production:
Collagen is an essential protein produced by in the skin.
It is responsible for strengthening the skin, as well as, keeping the skin moist and smooth.
As we age, collagen production decreases. When this occurs, the skin becomes dry and wrinkled. Thus, we appear old.
3. Food intake:
What you eat also determines if you would age, prematurely or not.
When Sugary and refined foods, especially those rich in carbohydrate are consumed over time. It has the capacity to cause damage to the skin.
This is according to the findings of this research.
4. Lack of sleep:
Not having enough rest at night can also result in premature aging.
Result from this research shows that signs of aging is linked to lack of sleep.
5. Excess exposure to sunlight:
Too much exposure to UV rays from the sun can fasten aging.
The skin tends to look more dry and dull when exposed to too much sun light. Imagine what would happen when this exposure occurs all time.
BEST ANTI AGING SKIN CARE PRODUCTS FOR 40s
This collagen egg soap, is one of the best anti aging skin care products for 40s.
It is designed to boost tissue collagen secretion by 400%.
Natural ingredients contained in this product are, " Eggs, olive oil and collagen."
This product helps;
• Prevent skin aging.
• Moisturize, repair and keeps the skin looking young and healthy.
• Deal with Acne, oily face, itchy skin and blackheads.
According to this research carried out on supplements made with collagen.
Findings suggest that they help handle visible signs of aging. E.g dry skin and wrinkles.
Collagen Egg Soap can be purchased at Skinol Cosmetics online store .
This product contains 80% Snail slime, amongst other ingredients.
This product is an anti aging serum. By boosting collagen secretion, signs of aging around the eyes become a thing of the past.
When applied around the eye, it helps clear;
• Wrinkles
• Dark circles
• Puffiness and eye bags.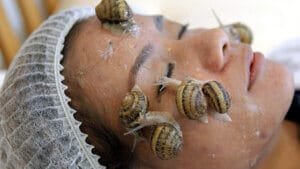 According to this Laboratory research carried out on a product containing snail slime.
It was discovered that snail slime does have an effect on skin problems.
For more visible results, combine this collagen snail serum and the collagen egg soap above.
Collagen snail serum can be purchased at Skinol Cosmetics.
This serum contains Vitamins C and E.
These vitamins are well known antioxidants that helps with skin appearance and protection.
Avène A-Oxitive Serum can be gotten from this online store.
This serum is also one of the best anti aging skin care products for 40s.
It contains Natural ingredients meant to help with wrinkles and fine lines. It also helps keep the skin moisturised and improves flexibility.
LilyAna Natural Serum can be purchased at this store.
This serum contains antioxidants and ingredients that would help keep the skin moist.
It is made to help clear fine lines, wrinkles and also keep the skin looking young.
Formulist intense hydrating serum can be purchased at this online store.