This could be your chance if you are having trouble regaining your edges, shedding, or thinning. The solution is using Castor Oil For Hair Growth.
Castor oil for hair growth, does it work?
While many people have tested it and found that it works, there is currently no scientific evidence to support this. It might work for you if it worked for them. The castor tree's seeds are used to make castor oil. 
It is an essential oil that is supposed to have a variety of advantages, including the ability to reduce inflammation and stimulate hair development while also improving the elasticity of the hair shaft.
Types of castor oil
Fresh castor seeds are cold-pressed, which means the oil is extracted by applying intense pressure using a pressing device akin to that used for juicing.

Jamaican castor oil is made by heating the seeds in water until they are boiling, crushing and grinding them with a mortar and pestle, and then pressing the resulting oil.

Black castor oil. The seeds are first roasted and then heated before the oil is extracted.
How does castor oil actually function?
Ricinoleic acid and fatty acids make up 90% of castor oil. The prostaglandin E2 receptor is known to be stimulated, which causes blood vessels to dilate. Increased blood vessel dilatation, when applied to the scalp, enhances the flow of oxygen- and nutrient-rich blood to the vitality centre of your follicles.
Why should you pick castor oil?
Despite the lack of evidence, trichologist and colorist Bridget Hill asserts that castor oil encourages hair growth. In addition to these advantages, it;
Your hair looks better and has more gloss thanks to it.

It makes the hair follicles stronger.

Without robbing the hair of its natural moisture, it is a staple for hair development and scalp therapy.

To increase blood flow, it causes blood vessels to dilate.

Antioxidants included in it fortify the roots of the hair and shield it from the elements.

It can halt split ends, hair loss, and damage when used with a carrier oil for dilution.

According to dermatologist Dr.

Garshick

, who is board-certified, it can work to nourish the hair, making it feel and look stronger and healthier.
Is castor oil beneficial for brows and eyelashes?
Castor oil moisturises the eyelashes and might give them the appearance of being longer and fuller, according to ophthalmologist Ilyse Haberman.
You can use it as long as you take precautions and don't get it in your eyes. Patch testing is advised by specialists to ensure constant safety. Apply the oil to the back of your ear and wait for about a week to perform a patch test. You're good to go if there isn't a negative reaction.
Check out Castor Oil On Eyelashes Before And After: Pictures and Results
How should it be used?
Depending on the purpose, your hair type, and your preferences, there are various ways to use castor oil. check out how to use castor oil for eyelash growth.
To treat the scalp:
For five to ten minutes, thoroughly massage the product into the scalp and hair strands. If you want the oil to really get into your scalp, you could also try sitting next to a hair steamer for 20 to 30 minutes, and then leave it in there until your next wash day.
For brows and eyelashes:
Before going to bed, softly dunk a clean brush or Q-tip in castor oil (a little bit will suffice) and then delicately glide the substance along your lash line, being careful not to get any in your eyes. Wash and remove the item in the morning.
For thorough conditioning overnight:
Before going to bed, apply castor oil to your hair and cover it with a shower cap. Gently comb your hair when you first wake up, then use shampoo and conditioner.
As a means of preventing hair loss
From the root to the tip of your hair, rub some castor oil through it with your palm. Give the oil a good massage and let it sit for at least 15-20 minutes.
You might even let it sit overnight.
To remove the oil, you will need to shampoo several times. Dry your hair with a towel after washing it. Immediately refrain from using any hot styling equipment.
Try these 4 castor oil products right away.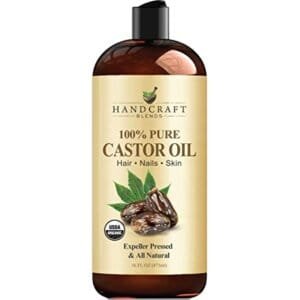 Possible alternatives
We can all agree that castor oil is an essential oil with lots of useful properties. This means that you can use castor oil or any other essential oil of your choice. Other ones include, among others, cedarwood oil, lavender oil, tea tree oil, rosemary oil, and peppermint oil.
Take your pick, then.
Safety when using it.
Even the best medicines and substances have limitations, thus it is vital to know that, while castor oil is generally considered safe, it should be used with caution because it may cause:
If you apply it to an open wound or have a rash on your skin, it may cause skin irritation.

if it gets in your eyes when you are applying, it may cause eye irritation

.

Castor oil's thick nature has the tendency to clog the pores on the scalp and make hair feel excessively greasy.
Start off with a patch test to protect yourself from any potential side effects, especially if you have a sensitive scalp. Better still, consult your dermatologist to be extra sure.